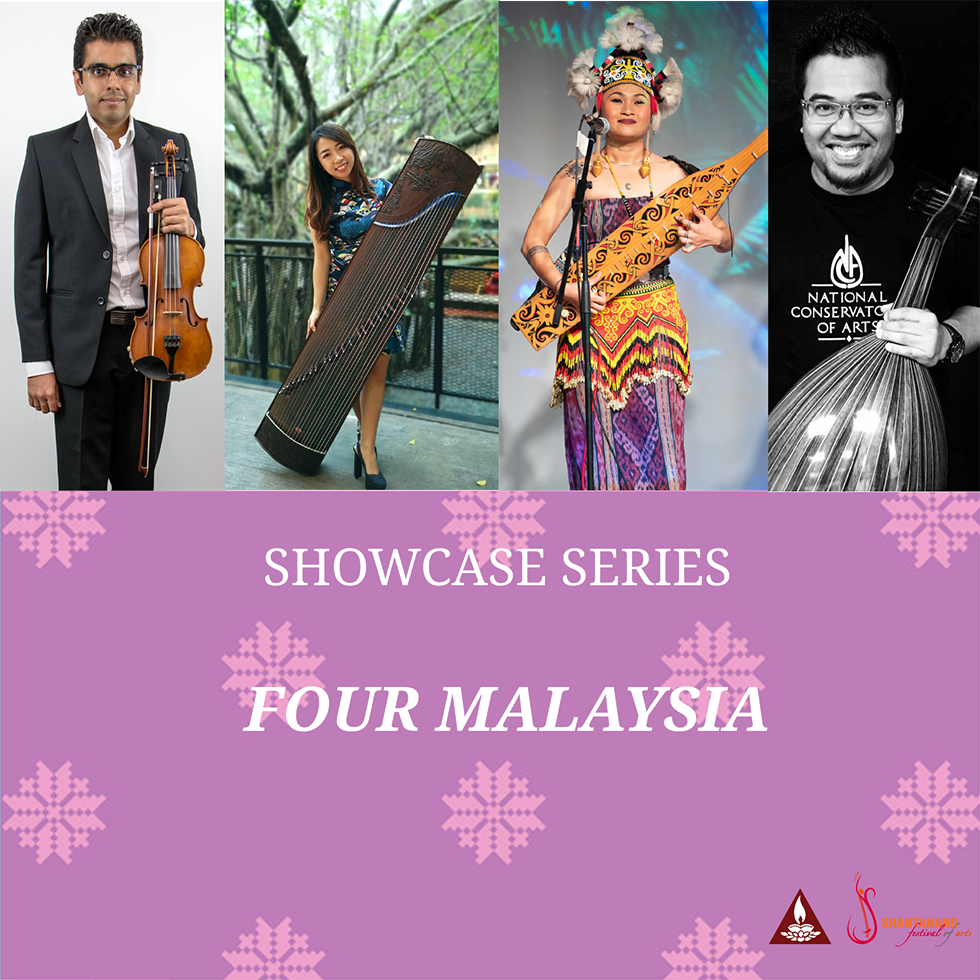 SHOWCASE : FOUR MALAYSIA
BY : MUNIRIH ANAK JEBENI, JESMINE NG KIT MAN, RAJA ZULKARNAIN, SRIRAM SHESHADRI

Four strings, Four songs,
Four souls, Four seasons,
Four genres, Four emotions,
Four races, Four traditions
Four Malaysia, for Malaysia.
A partnership of four musicians from different ethnic backgrounds and different genres of music, finding a universality through their music even while celebrating their differences. The lilting strums of the Sarawakian Sape blends and bends with the steady melodic pulsing of the Malay Gambus or Oud, even as the tender throbbing of the Chinese Guzheng cries out in ecstasy to the strains of the Indian Violin. 
No misunderstandings can take place here, in this sphere where music is the only language, the only interface – transcending race and creed, ethnicity and language. Only love and illumination remain and lingers on and on.
Date : 30th November 2019
Time : 10 – 12.30 pm
Venue : Kanagasabai
Event Number: 1
Munirih anak Jebeni, a native girl of Iban descend born and raised in Kuching, Sarawak. Graduated from Akademi Seni Budaya dan Warisan Kebangsaan (ASWARA) in Bachelor of Dance (with Honor), major as a performer of Sarawak ethnic dances. Use to worked with Enfiniti Vision Media production, owned by Puan Sri Tiara Jacquelina and part of the cast of MUD: Our Story of Kuala Lumpur The Musical which is held at Panggung Bandaraya, Kuala Lumpur. Took part in World Championship Of Performing Arts Competition (WCOPA) – Road to Hollywood 2016 in dance, duet category named Kenyalang Duo. Also a Sape' player – a traditional lute instrument from Borneo Island. Extensively performed locally and internationally as a dancer and musician since 2014 – South Korea, Hong Kong, Vietnam, Australia, Thailand, Taiwan, Singapore, China, Mongolia, South Africa and Indonesia. Won The Best Folklore Performance Award as a solo Sape' player in South Korea for the Korean World Travel Fair 2016 under Ministry of Tourism Malaysia.
She started her Gu Zheng learning path at the age of 9 under the encouragement of both her parents. In her early years of music education, she had the opportunity to receive guidance from Miss Ng Xiao Lan and Miss Lew Yoke Yee. 
In year 2007, Jesmine Ng had graduated with a Diploma in Music from Malaysian Institute of Arts (MIA) with majoring in Gu Zheng under the tutelage of Miss Tan Huey Joo and minor in Piano under Miss Yuan Leow Yunn. 
During she study in MIA, Jesmine Ng had participated in many of GuZheng musical concerts such as <The Musical Art of Zheng>, < GuZheng's Dialogue 1>, <GuZheng's Dialogue 2>. She also active participated in MIA Ladies Choir. In year 2005, The Ladies Choir had awarded Silver an in competition "A Voyage of Songs, International Choral Festival" hold in Shah Alam. In year 2006, they had awarded Golden A in competition "International Choral Festival hold in Hong Kong. 
The Central Conservatory of Music, China awarded Ms Ng with a Merit Certificate for her Grade 9 Gu Zheng examination in 2013. She has been attending some Gu Zheng master classes with GuZheng Prof. Fan Yi Feng, Prof. Qu Yun, and Prof Shun Zhuo from China. 
Jesmine Ng is very experienced in the art performance and has involved in many private functions and short-term contracts with Café & Bistros, Hotels and other public places. She had also been to China "Guang Zhou", "Xi an", Taiwan, Hong Kong and Australia to performed. Her passion for music can be clearly heard from her performances. Moreover, her improvisation skills have been grasping audiences' attention in many occasions, earning her applauses and appreciations. Having such versatile musician is a definite bonus to any functions and events. Currently, Jesmine is a Music Director in Art Melody Music School.
National Book Award Winner for Best Art Book 2017 published by Dewan Bahasa Dan Pustaka, Malaysia. 
When this graduate from Europe's Finest School of Modern Music, The Institute of Contemporary Music Performance in London, England met and studied under Iraqi Lute virtuoso, Naseer Shamma, it was a life-changing experience. His passion brings him traversing the borders to Cairo, learning under the masters of the Lute from the Middle East.
Raja Zulkarnain came back to Malaysia and lectured at various University and College where he taught basic fundamental and the various approaches to Lute playing. He has presented numerous papers on the Art of Lute playing and techniques in reputable art events and conventions around Malaysia and abroad. 
His pursuit is not just by educating, but preserving the aesthetics and heritage of the Lute. He has been invited to international Conference and Festival worldwide.
Raja Zulkarnain's passion in education and sharing his knowledge takes him from stages to classrooms and where the wind carries the songs from his Lute.
Sriram's musical training began at the age of 3 under the guidance of Late Padma Subramanyam. He went on to master his techniques in violin under the tutelage of the Late Vijayalakshmi Kulaveerasingam and the Late Valambigai Rajagopalan. 
He completed his first Carnatic violin performance under the guidance of Guru Padma Raghavan in 1998. Ever since then, he has performed both as a solo artist and an accompanying musician for a numerous dance recitals, productions, music recordings and concerts. His violin journey traversed beyond the borders of Malaysia and traditional Carnatic concerts, a reflection of his dedication and discipline. 
While being the Head of Supply Chain for an Multi National Company, Sriram has always dedicated his time for music; untiringly passing down his profound knowledge to his students in the Klang Valley. Operating under the banner 'Forbearance – TheCarnaticViolin.com', he and his team teach violin students at various music schools. 
Through passion and discipline, Sriram has emerged as established violinist with remarkable merits, recognized by the lay and experts as an excellent artist. 
He dedicates his music to his parents, family, music lovers and God Almighty.
Some of his key productions and performances include: 
SooJaeCheon – Korean Music Festival – Carnatic Violinist in a Korean Traditional Orchestrea 
Accompanied Padma Bhushan Trichur V Ramachandran – A Carnatic Vocalist – 2019 
Premanadhi – Violinist for a dance-drama that draws inspiration from the many facets of the river Ganges. A production authored and lead by Chitra Poornima of TFA Singapore, staged at the Drama Centre Theatre, Singapore. 
Anthar Agni – Violinist for a musical tribute to the sacred fire within us – A production authored and lead by TFA Singapore's Nawaz Mirajkar and Renu Suresh – Toured Singapore, KL and Penang, performing at the Victoria Concert Hall Singapore, KL Temple of Fine Arts and Dewan Sri Pinang. 
Accompanied Vishaal Sapuram – A Chitravina artiste – An A Grade All India Radio Artist – 2017 
Samarpan 3 – A tribute to Ustad Allah Rakha – By Nrityam Arts – 2017 
Super Singers 5: A Musical Journey Through Time – A fund raiser for Secondary School Building Fund – Featuring the Singers from Vijay TV's Super Singers. June 2017 
Intoxicating the Blue Lord by International Bharathanatyam Soloist Mavin Khoo – A work that delves into the transcendental spirit of Lord Krishna. An event which was graced by the Sultan of Perak. – October 2016 
Symphony for Sai – Violinist for an orchestra comprising of 50 members from all over the world – Performed at Puttaparthi in conjunction with World Youth Festival – July 2016 
Samarpan 2 – A tribute to Ustad Allah Rakha – By Nrityam Arts – 2016 
Lalgudi Illuminates – Natya Rajyam, Regal Dance Theatre – 2013 
Silappathigaram – by Asthana Arts – 2013 
An Adoration: Ganga – by Mystic Creations – 2011 
Panchabootha – Temple of Fine Arts 2009 
Ninnai Charan Adainthen Kannamma – Temple of Fine Arts – 2009 
Part of the orchestra as lead melody for more than 200 dance and vocal productions 
Part of the band as lead melody for more than 200 fusion concerts