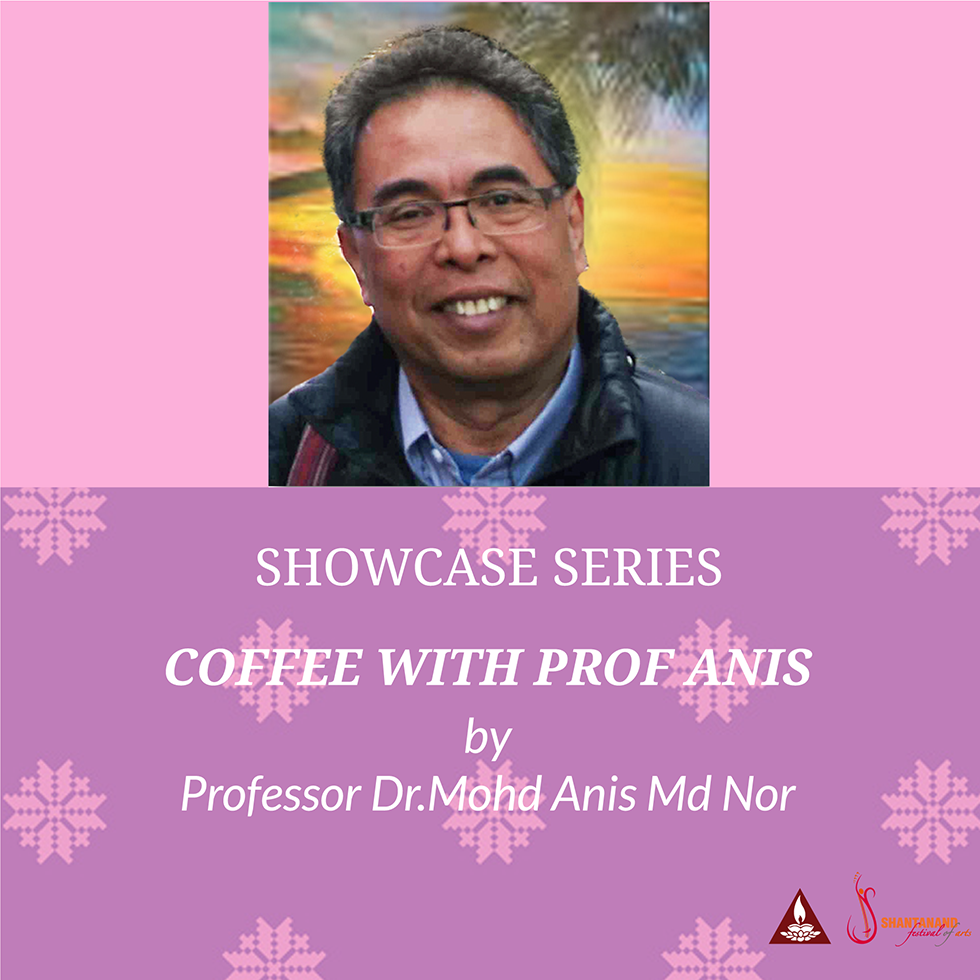 Talk : Coffee with Prof Anis
By: Professor Dr. Mohd Anis Md Nor

Tilting the Balance: Temple of Fine Arts, Extent and the Future - Reflections and Ruptures of Indic Performing Arts in Malaysia
Would it be too unreasonable to claim that The Temple of Fine Arts (TFA) as a cultural interlocutor and advocate of the extent and future of Indic Performing Arts tilt the balance for multicultural Malaysia? How did TFA contest the hegemonic "indigenous" versus subaltern heritage that appeared to be the conventional middle-of-the-road expectations? To whose expectations and why? Perhaps these questions could be sensibly addressed by looking at how TFA responds to cultural and religious differences, often associated with "the politics of difference", and "the politics of recognition", in which various ethnic groups collaborate and enter into a dialogue with one another without having to sacrifice their particular identities irrespective of descent groups or cultural origins. It could also be plausible to contextualise TFA's cultural practices in "emerging from" and/or "role playing" of Indic performing arts in the way cultural contexts have been affected by historical, political and social changes. Since its inception in 1981 by Swamiji Shantanand Saraswati in collaboration with Gopal and Radha Shetty, Sivadas and Vatsala, TFA has showcased its resilience as a shrine for music and dance guided by the supreme notion of creating awareness and sincerity in any "path, religion, doctrine to the ultimate goal of union with the Creator". 
Date : 8th December 2019
Time : 10 – 11.30 am
Venue : Kanagasabai
Event Number: 26
Practitioners and students in TFA account for cultural entities as human-made part of the environment under conditions constrained by power defined by contestation, conflict, and change. They are the forces of creative expressions, thoughts, practices, and products in relation to social, political, historical, rhetorical, and economic contexts, while grappling with the volatility of cultural happenings, emphasising self-reflexivity towards an awareness of the social currents in shaping our Culture today within and through which socially organized people/communities conduct and participate in the construction of their everyday lives. TFA's ability to exclude intangible and subjective cultural barriers, social class, race and politics of the sexes to reflect Malaysia's multiculturalism by rupturing cultural domination of a particular ethnicity could be a case study of performative resilience in Malaysia.
Professor Dr. Mohd Anis Md Nor is a retired Professor of Ethnochoreology and Ethnomusicology at the Cultural Centre (School of Performing Arts), University of Malaya in Kuala Lumpur and is currently an Adjunct Professor at Sunway University. He is the Managing Director of Nusantara Performing Arts Research Centre in Kuala Lumpur, a non-profit organization, which awards grants to individual scholars and focuses on research, documentation, and publication of traditional and contemporary performing arts of Southeast Asia.
He earned his B.A. Honors from the University of Malaya, M.A. (Dance Ethnology) from the University of Hawaii at Manoa, and PhD (Southeast Asia Studies and Musicology) from the University of Michigan at Ann Arbor, Michigan. Professor Dr. Mohd Anis Md Nor has pioneered the study of Zapin dance and music in Southeast Asia and has published widely on the said topic. Although his foremost research area deals with Malay dance and music in Southeast Asia, his current studies are on the interfacing of dance traditions among the Malayo-Polynesian societies in Southeast Asia and Polynesia and the making of new traditions through contemporary performances. He has published more than 20 books, 93 chapters/articles, and 151 keynotes/conference papers on the performing arts of Malaysia and Southeast Asia focusing on music, dance and theater.
Professor Dr. Mohd Anis Md Nor is the Secretary General of World Dance Alliance (WDA Americas, WDA Asia Pacific and WDA Europe); Chair of the ICTM Study group on Performing Arts of Southeast Asia (ICTM PASEA) (as a non-governmental organization in formal consultative relations with UNESCO); Past President of World Dance Alliance – Asia Pacific (WDA-AP); National Advisor to MyDance (World Dance Alliance-Asia Pacific Malaysia Chapter); and former Artist-in-Residence/Consultant to the Johor Heritage Foundation. He was appointed as the Advisory Committee of the Islamic World Arts Initiative (IWAI) supported by the Doris Duke Foundation for Islamic Art for the period of 2004-2005.
He was the 2007-2008 William Allan Neilson Distinguish Professor of Music, Dance and Theatre at Smith College, Northampton, Mass. USA; and the 2011 Visiting Professor at the University of Michigan sponsored by the School of Music, Dance and Theatre, Center for Southeast Asian Studies and Center for World Performance Studies. He was awarded a European Union Erasmus Mundus Fellowship in 2012 by the European Union to take up the position of a Visiting Professor at the Norwegian University of Science and Technology at Trondheim, Norway, for the 2012-2013 Winter Semester; and was the Program Committee Co-Chair for the 70th ICTM Anniversary and 44th ICTM World Conference (2017) in University of Limerick, Ireland.