Showcase : Margazhi Musings
By: The Samo'Sounds
Margazhi Musings is an interactive musical session featuring the use of Indian classical ragas in Indian film music. The artists will sing and play popular classical songs from the chosen raga and this will be complemented by a medley of movie songs in the same raga. 
From ghazals to film songs, the show intends to introduce to the varied audience, the essence and emotions of Indian classical ragas and Indian film music thereby bridging the gap between these two genres.
 The Samo'Sounds came to be during a fun jamming session one day! With ace sitar artiste Kumar Kartigesu, popular RJ and singer Aanantha Rajaram, one of India's award-winning, leading Carnatic and hindustani singer, Priyanka Raman and a semi classical All India Radio artiste, Krithika Chandrashekar in the core team, The Samo'Sounds was founded to experiment with different forms of music in an interactive way.
Collaborating with Selvendrrah Krishnan and Sam Prith V this time, The Samo'Sounds envisions to interact with music lovers through both classical and film music.
Date : 30th November 2019
Time : 10 – 12.30 pm
Venue : Kanagasabai
Event Number: 1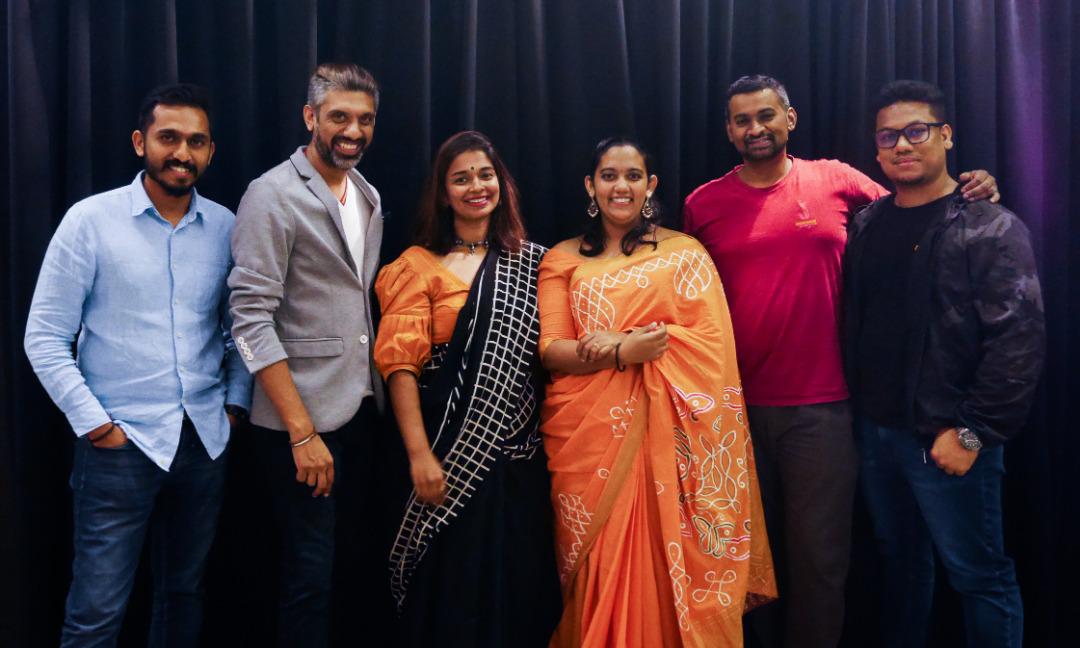 Trained Hindustani and semi-classical vocalist with a B grade in the latter (performing artiste for the All India Radio)
Won Sun TV's Sapthaswarangal and participated in several other TV shows Training
Trained in carnatic vocal music for 10 years under Guru Smt Late Sheela Vasudevamurthy
Passed the Junior examination conducted in Karnataka (India) with a distinction
Trained in hindustani vocal music for 5 years under gurus Smt Geeta Hegde and Smt Poornima Bhat Kulkarni in Bangalore
Training under Guru Sri Pandit Vishwanath Nakod in the semi-classical form of music
Graded B artiste for ALL INDIA RADIO Performances
Participated and won SUN TV's Sapthaswarangal (a reality show featuring Tamil movie songs)
Finalist in Vijay TV's R U Ready (known now as Super Singer)
Performed with renowned singer S.P. Balasubramanium in Jaya TV's Ennodu Paatu Paadungal
Performed in SUN TV's Sangeetha Maha Yuddham
Performed several semi classical shows (bhajans, devarnamas and vachanas) at ISKCON, and other renowned venues across South India Education
Masters in Economics (Mount Carmel University, Bangalore)
Bachelors in English Literature (Bangalore University
Kumar Karthigesu is a prominent sitar player in Malaysia.
He has performed widely throughout the world in various capacities and has gained recognition as a classical Indian sitar player, as well as an accomplished musician who is able to fuse his music with other genres.
He is also the lead sitar player for AkashA, a popular Malaysian world music outfit, as well as the principal sitar player for the Malaysian Traditional Orchestra. He teaches sitar and Indian music and serves as the Music Director of The Temple of
Fine Arts International.
Kumar is the recipient of several awards, among them being the Anugerah Seni Negara (Karyawan Seni) and also the Tokoh Warisan Negara (National Living Treasure) by the Government of Malaysia.
Born into a family of musicians, Priyanka's training in music began at the age of 5. She
began her initial training in Carnatic music from Sangeeta Kala Acharya Late Shri BV
Raman. She subsequently pursued her advance training under the tutelage of Dr. Mrs
Manjula Sriram. Keen to explore other genres, she started training in Hindusthani classical
music from Pandit Arun Debnath and continues to learn the nuances of this form of music
from him. She teaches vocal music at The Temple of Fine Arts, KL.
With over 25 years of training, Priyanka has had the opportunity to perform nationwide and
was a regular in the Chennai December "Carnatic Music Season" during her stay in
India. She has participated in innumerable competitions conducted at the district, State, and
National Level and have won prizes in the same.
Some of her achievements include :
Won the All India Music Competition conducted by Navya Nataka Samithi, Hyderabad (2005).
Won the Tamil Nadu State Government scholarship for young artists (Tamil Nadu Iyal Isai Nataka Mandram) (2003).
Awarded the title "Naada Kishori" for the best vocalist at Naadakishorotsava, conducted at Mysore (August 2006). 
Ranked among the top ten vocalists in carnatic music by the VDS arts Academy Chennai for the years 2004, 2005 and 2006.
Performed for TV and Radio channels like DD, Raj TV, Sun TV and the AIR.

Participated and Won the State and National level music competitions conducted by

Bharat Vikas Parishad. 

I was a Bharat Kalachar Scholarship awardee from 1999 to 2003.
Priyanka holds a masters degree in management and is a digital marketer & strategist who is currently employed at AXA AFFIN Life Insurance Berhad.
Anand Rajaram, or Aanantha as he's fondly known, has been creating waves of change in the Indian
entertainment industry from a very young age since year 2000. Currently Aanantha is hosting the morning breakfast show 'kalakkal kalai' between 6am to 10am on Raaga, the number one Tamil station in the country with a rating of 1.9 million listenership.
Having started his own band named Synergy about in the early years, his musical journey has taken him all over Malaysia and also to some international locations such as Canada, India and Indonesia, to name a few. 
He has collaborated with our very own Malaysian top artistes such as Ziana Zain, Ning Baizura, Anuar Zain, Sheila Majid, Ramlah Ram and many more in mega concerts and also various charity shows and has gained recognition as a reknown singer who sings in multiple languages. 
He, along side his equally famous brother, Ram, run a studio, which is called Synergy Studio 1, where they produce radio advertisements and music albums. Together they have managed to garner 22 awards; one being a coveted gold award for excellence in radio advertising. The studio has also been featured in the Discovery Travel and Living Channel's The Six Degrees Programme. 
Besides that his studio has played host to famous people like Reshmonu, Asha Gill, Mohd Rafi (Indian Vocalist) and many other deejays and personalities. 
Aanantha and his brother Ram has produced an album entitled 'WASSUP' in which the services of all the best musicians in the country was engaged, which includes Mohd Rafi, a prominent singer in Singapore and India, who also works for Oscar winning music director AR Rahman. 
Amidst these, Aanantha and Ram were invited to perform live for the 'Anugerah Sri Angkasa 2006'; the most prestigious event in Malaysia which was broadcast live on all main television channels. 
He has also lent his vocals for a song in Reshmonu's second album, a song called 'Stay', in which he has sung beautiful Tamil lyrics which were also written by him. 
Known for his versatility, Aanantha was requested to do back up vocals for a number in the latest album by Karen Tan, a famous local Chinese artiste and has also sung with famous playback singers from India, namely Mano, Hari Haran, Anuradha Sri Ram,Suresh Peters and many more. Aanantha has featured in many songs and recently was featured alongside Dina and Mavi in the Astro Radio All Stars peppy patriotic number entitled Sayangi Malaysia.
With over 20 years of experience in music production, Sam Prithv is a renowned bassist and dynamic keyboard player in the industry in keeping up with the current trends. He is also an arranger and a prolific composer.
Sam P has travelled with some well-known Jazz, fusion Pop and Rock musicians both in Malaysia and overseas, and is currently working with music directions on keyboard sequencing and also background scores for Hindi and Tamil movies.
He recently worked on a Punjab New Year festival "Vaisakhi" which is on the 'most heard list' in Malaysia's radio stations.
A passionate teacher that he is, Sam P is currently training many students in Kuala Lumpur and is helping them by imbibing interest in learning and playing various instruments!
Selvendrrah Krishnan is an Electrical and Electronics Engineering graduate. He joined The Temple of Fine Arts KL in 2009 to learn tabla under the tutelage of tabla maestro, Prakash Kandasamy. Ever since, Selvendrrah has performed in many music concerts both locally and internationally. He has also worked with many renowned artists and has performed for productions such as Yuvakala, Ankur and Shadjam.
One of his recent achievements in his musical journey was when he was given the opportunity to perform for Hands Percussion International Drumming Festival 2014 which was held at KLPAC. His can also play many other instruments such as the Dholak, Naal, Dhol as well as the Cajon.
He has played for many music recordings and one such recording which expanded his music career was Skandaswarangal, a local devotional album.
He is currently a band member A.P.U – Aseana Percussion Unit.